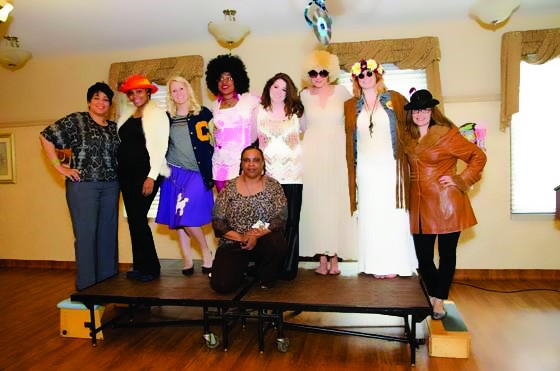 Once again, Hooverwood's talented and creative Activity Department exceeded all expectations in the planning and coordination of this year's National Nursing Home Week celebration.
The fun began on Mother's Day with a beautiful brunch hosted by the Food Services Department. Residents and their family members enjoyed a wonderfully delicious buffet.
This year's theme, "Dancing through the Decades" began in the 1950s on Monday with homemade milkshakes and soda shop bingo.
On Tuesday, Hooverwood visited the 1960s with Motown performer Lonnie Lester. For 1970s day, staff partnered with local store Thrifty Threads to present the fifth annual Hooverwood
Fashion Show. Thursday's 1980s theme featured the movie The Breakfast Club and a gourmet waffle bar. The week wrapped up in the 1990s with the Wendy Reed Band and the Heritage Line Dancers leading staff in the macarena dance. Everyone truly had a fantastic time. Many thanks for everyone's cooperation and teamwork in making this such a special week for residents and staff.