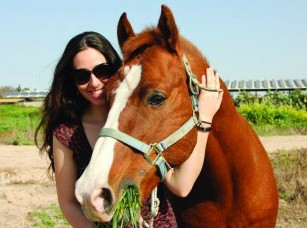 Are you as sad as we are that our wonderful shlicha Inbar is leaving so soon? Get your tear ducts ready, because her goodbye speech to the JFGI board is below, along with an accompanying slideshow.
"Hello everyone! As tonight will be my last report to the board before I finish my role here in Indy next week, I was asked to try and go over everything I did over the course of the past two years. That was quite a task.
When I started writing my notes, marking the titles of programs, both those I've put together and those I took an active part in, it was INEVITABLE to try and put together some numbers. Very quickly I crossed the 15,000 mark, and then decided to stop counting.
I see our work in the communities and on campuses as a drop in the ocean; yes, there is so much more that is happening out there apart from what we do, but at the same time, those drops are creating ripples and waves that spread and reach more and more people as time passes. 
Since I got to town, I've been working with toddlers, young children, teenagers, college students, young adults, adults who are young at heart and elderly.
I've been working with OUR Jewish community, but from time to time touched other Jewish communities, too, such as Omaha, Chicago and Louisville.
A lot of my focus in the past two years went towards not only the Jewish community, but the community at large. My first big project, about two months after my arrival, was the Israeli booth at the Indy International Festival, which that year drew about 40,000(!) people, and I can assure you, many of them went through our booth. This platform allowed me to develop incredible conversations with a variety of people, most of whom had never heard about Israel, and those who had only read about it in the Bible or heard bits and pieces over international media.
One of the relationships I've built and am most proud of is a relationship with an International Club at the Speedway Junior High, a classroom filled with students from all around the world who had never heard about Israel before. After meeting with them in the International Festival, I was invited to talk in their school. The kids were so excited and engaged that once I invited them to join us for last year's Yom HaAtzmaut celebration, they made a field trip out of it! This year, they joined, yet again, but this time as active participants.
I was privileged to work closely with our amazing JCRC team. From the combined project of ours we've named "Israel Talks" to fighting BDS on and off campuses, and meetings with a variety of dignitaries and delegations, it was truly my pleasure.
There are so many other organizations and departments to mention, like Partnership2Gether, the Israeli Consulate to the Midwest, our synagogues, public and private schools around town, churches and temples, but you should know by now that when I start talking, it is difficult for me to stop. So I will stop.
I want to finish by saying THANK YOU! Thank you to everyone I've been working with at the past two years, thank YOU, our board, for giving me the opportunity to run wild with my ideas and endeavors, doing what I enjoy, and a big thank you to the Federation Staff who were like a family to me, in good and in bad! I cannot wait to come back and visit, and until next time, lehitraot!"