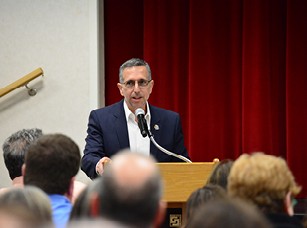 2017 JFGI Annual Meeting Remarks from Incoming President
Good evening, and thank you all for being here. Your presence and support for our Jewish Federation is part of what makes us great as a community. And all of us owe our thanks to Offer, whose exemplary leadership of our Federation over the past two years has made us stronger and better still.
I have known Offer for many years, and have seen his leadership of the JCRC, Federation Campaign, and the Federation itself as a model for dedicated community service. That his family, including his amazing children, are continuing in his footsteps of community involvement is a testament to the values he lives by.
I'm looking forward to serving you as president during this exciting year. I am honored and humbled by the responsibility of this role; I hope to be a worthy servant, and promise to listen, learn and serve all of you and our collective community. I promise to do what I can help our professional and lay leadership and volunteers at every level. I am fortunate to be supported by a group of people with talent, energy, and a deep knowledge of both the needs and resources of the community.
Unlike much of our federation leadership, I came to Indianapolis as an adult. I arrived to attend graduate school in 1980 from Chicago (Highland Park, for those of you wanting to play Jewish Geography). My aunt, Florie Leviton, was well established here and introduced me to her friends and into the local Jewish community. What I found was a warm and welcoming Indianapolis family, and many role models for active leadership.
Within a year of arriving, I met Leslie (my b'shert), we moved into Mordoh's place, joined the JCC (Ira took our membership application), and the rest is history. From the very start, the JCC was in a very real sense a center of our life, and introduced me to the Federation and all it is and does. I felt that I became part of something both great and good, and in the process felt that Indianapolis truly became home.
I learned many things.
I learned that our Federation provides connections: among people, resources, organizations, governments, and other communities. I learned that It also provides strength: our active involvement in the greater Indianapolis community both individually and through Federation agencies and programs, enables us to punch well above our weight.
I learned that Indianapolis had 10,000 Jews.
I also learned that we still say that we have 10,000 Jews. I don't know who left town to allow me to come here, but I want to take this opportunity to formally thank him.
For the first time in 80 years, we are conducting a community survey to enable us to not only get a truer number, but also to find out where we live, where we came from, how old we are, what our families look like, and what we know about – and need from – our community resources. This study will help us, our agencies, and the greater community make decisions on allocations of dollars and time, what services and programming are needed, what to build, and where.
Our Federation enables us to leverage our resources to do good things – educate, feed, protect, care for spirit, mind, and body – in summary: thrive. This study will inform our efforts to rethink how we deliver services – in some cases moving beyond the traditional siloed Agency models to a community services model, where agencies and others work together toward common objectives.
One example of this is our Campus Working Group, working with our campus tenants – Hooverwood, the BJE, the JCC, JFS, and the Federation – to develop creative solutions to coordinating the plans of these independent, and interdependent, agencies.
It is important for us to look outward as well, and our Federation plays a vital role in this.
Through our JCRC, we have a conduit to our political and community leaders to serve as our advocate and help ensure that our voice is heard. This has never been more important – with the challenging political environment here and abroad, the rise of hate speech and crimes toward us and others, and polarizing issues and politics, it is very important to come together and fulfill our role -- in the words of Isaiah -- as a "light unto the nations."
Israel continues to be challenged by an increasingly dangerous neighborhood. Our strong financial and moral support of Israel, as well as our efforts to support missions to help people experience the land and people firsthand, helps ensure that the facts are known. Our community shaliach program brings to Indiana the ability to introduce Israel to others, and strengthen our own bond with the Jewish homeland. 
Our needs are only increasing, and it has never been more important to support the Federation with our time and dollars. Our development professionals and volunteers work tirelessly to develop our LIFE & LEGACY program and other planned giving, growing our endowment, expanding Women's Philanthropy, and of course our annual campaign. Our NEXTGen initiative is making great strides in engaging a new generation of leaders and donors that will ensure our solid future.
I am looking forward to working with Debby and the rest of the professional Federation staff who make all of this possible and truly do the heavy lifting. I am honored to be working with our Officers, executives, Board of Directors, committee members and volunteers who generously give their time and resources to execute our mission.
Thank you.